IMPORTANT NOTICE - Sage Pay has withdrawn support for your browser for security reasons. If you would like to make a purchase with a card you will need to switch to a current browser such as FireFox, Chrome or Internet Explorer 9 or above. Please accept our apologies for the inconvenience.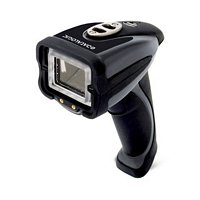 END OF LIFE NOTICE
This product has been discontinued by the manufacturer.
The replacement is the Datalogic PowerScan PD9500-DPM Evo.
Some compatible products may still be available. Please see the menu above.
If you need assistance in selecting an alternative please ask for Help.
Big Image

DOWNLOADS
Datalogic provides the following data sheet for the Powerscan PD8590-DPM.
Buyers Guide
GENERAL DESCRIPTION
The Powerscan PD8590-DPM is a rugged hand-held imager 1D and 2D barcode scanner with special illumination designed for reading direct part marked codes (DPM).
To read a barcode the scanner is held over the symbol and lowered to near contact. The lighting system cycles through a range of options which can include dark field, bright field, red dome and blue dome illumination. When the scanner decodes the barcode it will beep and vibrate.
Datalogic provides the ESP software tool which allows the lighting system to be tuned by the user for specific DPM applications.
The barcode symbologies which can be read by the Powerscan PD8590-DPM include:
- Aztec
- BC412
- Codabar
- Code 39
- Code 93
- Code 128
- Composite
- Data Matrix
- EAN
- GS1 DataBar
- Interleaved 2 of 5
- microPDF417
- PDF417
- Pharmacode
- QR Code
- UPC
The scanner comes fitted with a 3.7M (12') USB cable.
Accessories include a Holster and an Industrial Take-up Reel for dangle suspension.
DIMENSIONS AND WEIGHT
The scanner dimensions are 212 x 110 x 74mm (8.3 x 4.3 x 2.9") LxWxH.
The weight of the scanner is 0.204Kg (0.440lbs).
DROP RESISTANCE AND PROTECTION
The scanner can withstand 50 drops from 1.8m (6') to concrete.
CABLES AND INTERFACES
The scanner comes fitted with a 3.7m (12')USB cable.
Coiled 2.4M (8') RS232 cables are available in kits which include UK or EU power supplies.
The coiled 2.4M (8') RS232 cable is also available separately.
Straight USB cables are also available separately in 2M (6') and 3.7M (12') lengths.
POWER REQUIREMENTS
The Powerscan PD8590-DPM needs 5VDC power and requires up to 408mA.
RESOLUTION AND READING RANGES
The reading distance for the Powerscan PD8590-DPM is from contact to 51mm (2"). The smallest barwidth for 1D codes is 2 mil and the smallest Data Matrix cell size is 4 mil.
CABLES
The PD5890 is shipped with a 3.7M (12') USB cable with a Type A connector.
Other cables are available.
USB CABLES
RS232 CABLES
ACCESSORIES
Accessories for the Powerscan PD8590-DPM scanner include a Universal Holster and an Industrial Take-up Reel.
DELIVERY
Our standard charge for 2-3 day delivery to most locations in mainland UK is £10.
This charge is subject to a weight limit of 20Kg.
For consignments which are heavier than 20Kg we reserve the right to add a surcharge.
If your order includes products from more than one manufacturer we may need to ship items from more than one warehouse and in such circumstances there may be a carriage surcharge.
We will agree any carriage surcharge with you before accepting your order.
If you need delivery outside mainland UK please contact us at sales@decisiontechnology.co.uk to confirm the delivery charge before placing your order.
HELP
If you need help please call us on +44 (0)20 8979 5533 or email us at sales@decisiontechnology.co.uk.
We try to respond to emails within a few hours.
Updated 2023-11-17 at 18:25:16.
Errors and Omissions Excepted.