IMPORTANT NOTICE - Sage Pay has withdrawn support for your browser for security reasons. If you would like to make a purchase with a card you will need to switch to a current browser such as FireFox, Chrome or Internet Explorer 9 or above. Please accept our apologies for the inconvenience.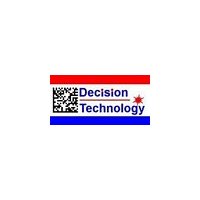 Barcode equipment and consumables with unbeatable discounts.
Label printers and scanners from the major manufacturers.
Genuine new products with the manufacturer's warranty.
Wide range of labels and ribbons in stock.
Custom made labels at competitive prices.
Free expert advice by phone and email.
Easy to access online shop secured by Sage Pay.
Nett monthly accounts for creditworthy customers.
HISTORY
Decision Technology was set up as a partnership in November 1981 by Jenny Phillips and Mike Russell. The business is still exclusively owned by the founders.
With the advent of the IBM PC opportunities arose in virtually every industry and one of our first projects was to write a scheduling system for a gamma ray sterilisation plant in the pharmaceutical sector.
After that we launched into barcoding and labelling systems and wrote the ICON Labelling System which until recently was used worldwide.
This was quickly followed by a huge system in the automotive industry which resulted in some of todays developments in diesel powered vehicles.
Most of our projects have been technical and have involved barcoding. A notable exception is a skills resource system which was used to plan shift staffing. This was used by a company that turns recycled waste paper into gigantic toilet rolls which are then cut down into a more manageable size.
As technology has evolved so have we. At an early stage we were involved with 2d barcodes, programmable printers and machine vision sensors.
In the automotive industry we have been involved in a number of error checking systems which use the power of intelligent printers to control machine vision components, sensors, lights, shot bolts and switches as well as printing barcode labels.
In the music industry we have used machine vision to check the rear inserts in music CDs.
In another project we used machine vision to read barcodes on cans of radio active waste through extremely thick laminated glass windows.
As an adjunct to our systems business we decided to set up a web based activity to sell the type of barcoding equipment that we have used so extensively.
Today the web accounts for a large part of our business but if you have a really difficult and interesting project we may be tempted.
VAT
VAT Registered No. is GB 358 7720 18.
DUNS
Our DUNS number is 236325114.
HELP
If you need help please call us on +44 (0)20 8979 5533 or email us at sales@decisiontechnology.co.uk.
We try to respond to emails within a few hours.
Updated 2023-12-01 at 16:22:28.
Errors and Omissions Excepted.