IMPORTANT NOTICE - Sage Pay has withdrawn support for your browser for security reasons. If you would like to make a purchase with a card you will need to switch to a current browser such as FireFox, Chrome or Internet Explorer 9 or above. Please accept our apologies for the inconvenience.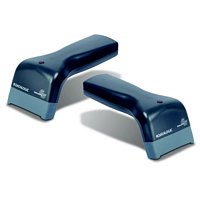 END OF LIFE NOTICE
This product has been discontinued by the manufacturer.
These scanners are replaced by the:
- Touch Lite TD1120 which has a USB cable interface.
- Touch Lite TD1170 which has a Keyboard Wedge and RS232 cable interface.
- Touch Pro TD1130 which comes with a Keyboard Wedge, RS232 and USB interface.
Some compatible products may still be available. Please see the menu above.
If you need assistance in selecting an alternative please ask for Help.
Big Image

DOWNLOADS
Datalogic provides the following data sheet for the Touch.
DESCRIPTION
The Datalogic Touch is a low cost hand-held close range hand-held linear imager barcode scanner which is aimed at the office, retail and light industrial sectors.
The scanner can read all standard 1d barcodes and the GS1 DataBar (linear and stacked).
The Touch comes in two models the Touch 65 and the Touch 90. These have normal and wider reading windows which are suited to barcodes up to 65mm and 90mm in width.
The barcode scanner comes in two series, the Touch Pro and the Touch Light.
The Touch Light is lower cost, has no trigger and is limited in the types of cables that can be used.
The Touch Pro has a trigger and works with a wider range of cables.
The Touch Lite is available as complete kits with USB cables.
Both the Touch Lite and the Touch Pro scanners are supplied without cables.
Most users use the USB or PS/2 Keyboard cables shown in Recommended Cables.
For more complicated applications Other Cables are available together with Power Supplies and Mains Power Cords, if required.
CABLES
RECOMMENDED CABLES
The cable must match the scanner interface.
OTHER CABLES
The cable carries communication and power, and must match the scanner cable interface.
Most USB, Keyboard Wedge, and Wand Emulation connections are able to supply power directly to the scanner from the connected equipment. In some rare cases external power may be required.
Standard RS232 ports cannot provide power and RS232 connections will generally need the assistance of an external power supply.
Where external power is required a cable with an external power socket must be used.
If you need help in choosing a cable please ASK FOR HELP giving full details of the equipment involved.
USB CABLES
RS232 CABLES
KEYBOARD WEDGE CABLES
WAND EMULATION CABLES
POWER SUPPLIES AND CORDS
POWER SUPPLIES

Datalogic 90ACC0287.
5VDC Power Supply Including 2 Pin Power Cord Adapter.
Needs a Mains Power Cord.
Delivery 2-3 days.
Price does not include delivery charge.
MAINS POWER CORDS

Datalogic 90ACC1887.
UK Mains Power Cord.
For delivery details please ASK.
Price does not include delivery charge.
DELIVERY
Our standard charge for 2-3 day delivery to most locations in mainland UK is £10.
This charge is subject to a weight limit of 20Kg.
For consignments which are heavier than 20Kg we reserve the right to add a surcharge.
If your order includes products from more than one manufacturer we may need to ship items from more than one warehouse and in such circumstances there may be a carriage surcharge.
We will agree any carriage surcharge with you before accepting your order.
If you need delivery outside mainland UK please contact us at sales@decisiontechnology.co.uk to confirm the delivery charge before placing your order.
HELP
If you need help please call us on +44 (0)20 8979 5533 or email us at sales@decisiontechnology.co.uk.
We try to respond to emails within a few hours.
Updated 2022-05-18 at 13:07:03.
Errors and Omissions Excepted.