IMPORTANT NOTICE - Sage Pay has withdrawn support for your browser for security reasons. If you would like to make a purchase with a card you will need to switch to a current browser such as FireFox, Chrome or Internet Explorer 9 or above. Please accept our apologies for the inconvenience.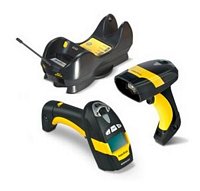 END OF LIFE NOTICE
This product has been discontinued by the manufacturer.
The replacement is the Datalogic PowerScan PM9500.
Some compatible products may still be available. Please see the menu above.
If you need assistance in selecting an alternative please ask for Help.
Big Image

DOWNLOADS
Datalogic provides the following data sheet for the Powerscan PM8500.
DESCRIPTION
The 433Mhz Datalogic PowerScan PM8500 is a high performance wireless hand-held area imager barcode scanner aimed at industrial applications involving 2d barcodes.
The PM8500 scanner comes in a range of models which provides a choice three resolutions, no display screen or a screen with a three key keypad. The PM8500 scanners have a full industrial specification. The scanners with no screen are rated at IP65 and those with screens at IP64. The scanners operate at -10º to 50ºC and can withstand drops of 2m.
A wide range of supporting equipment is available.
There are two combined radio base and scanner chargers which can support up to 32 scanners each at a range of up to 50m.
A separate scanner charger is also available.
A battery charger is available to charge the removable batteries.
Both radio base stations have the standard cable interface which works with Keyboard Wedge, RS232, USB and Wand Emulation cables and one of the radio bases has a port for RS485 networking.
The radio bases can be powered at 5V DC from the connected equipment or by a 10 to 30V DC external supply.
BASE STATIONS AND CHARGERS
RADIO BASE AND SCANNER CHARGERS
SCANNER CHARGERS
BATTERY CHARGERS
CABLES
The Datalogic BC8000 radio bases with charger require a cable for connection to PCs or other equipment.
Both the BC8030 and BC8060 have the standard cable interface caters for Keyboard Wedge, RS232, USB and Wand Emulation cables.
The radio bases with charger will normally be powered by an external supply.
In some cases power at 5V DC can be obtained from the connected equipment but this results in a much longer time to re-charge the PM8300 battery.
If you need help in choosing a cable please use ASK FOR HELP giving full details of the equipment involved.
USB CABLES
RS232 CABLES
KEYBOARD WEDGE CABLES
WAND EMULATION CABLES
POWER SUPPLIES AND CORDS
POWER SUPPLIES

Datalogic 90ACC1883.
PG12-10P55 12VDC Power Supply.
Needs a Mains Power Cord.
For BC8030, BC8060 and C-8000.
For delivery details please ASK.

Datalogic 94ACC4595.
FPS18 14V DC Power Supply.
For MC-8000 Battery Charger.
This product has been discontinued and is sold out.
For advice on alternatives please ASK.
MAINS POWER CORDS

Datalogic 90ACC1887.
UK Mains Power Cord.
For delivery details please ASK.
Price does not include delivery charge.
BATTERIES
Datalogic RBP-PM80.
RBP-8000 Removable Battery Pack.
Removable Battery for PowerScan PM8300 and PM8500 Scanner Models which have Removable Batteries.
Delivery 2-3 days.
Price does not include delivery charge.
DELIVERY
Our standard charge for 2-3 day delivery to most locations in mainland UK is £10.
This charge is subject to a weight limit of 20Kg.
For consignments which are heavier than 20Kg we reserve the right to add a surcharge.
If your order includes products from more than one manufacturer we may need to ship items from more than one warehouse and in such circumstances there may be a carriage surcharge.
We will agree any carriage surcharge with you before accepting your order.
If you need delivery outside mainland UK please contact us at sales@decisiontechnology.co.uk to confirm the delivery charge before placing your order.
HELP
If you need help please call us on +44 (0)20 8979 5533 or email us at sales@decisiontechnology.co.uk.
We try to respond to emails within a few hours.
Updated 2022-05-18 at 13:07:03.
Errors and Omissions Excepted.