BARCODE TECHNOLOGY GUIDE
WHAT IS A BARCODE?
What Types of Barcode Are There?
Barcodes are patterns of light and dark shapes which contain data in a machine readable form.
There are many different types of barcoding method.
Some can only handle numbers and others can represent various alphanumerics and symbols.
Most barcodes consist of a series of bars which are perpendicular to a baseline. These are referred to as Linear or 1d.
In the quest to cram more data into the space occupied by the barcode symbol the redundant vertical space was utilised. These barcodes are referred to as 2d.
The earliest form of 2d barcode was created by stacking linear barcodes together in tiers. These are referred to as Stacked Codes.
A later development was to use two dimensional patterns of blocks or other shapes. These are referred to as Matrix Codes.
Which Are the Most Important?
Arguably the most important types of barcode are as follows:
EAN13 Retail Barcode
The EAN13 barcode was developed from the first commercial barcode, which was created specifically for retail.
EAN13 is now the predominant barcode. It is found on almost every item available in shops anywhere in the world. EAN numbers are registered and allocated for use by affiliated organisations which can be found in most countries. In the UK the registering body is GS1 and more information is available from GS1 UK.
EAN13 is a linear barcode which contains an EAN13 Article Number.
The first part of this number holds the unique identity of the supplier, the second part holds the supplier's item number, and the last digit is used to check integrity.
The EAN13 barcode for one of our products is shown below.

In this barcode the first part, ie. 5030723, is the unique Company Prefix Number which is registered with GS1 in the UK.
The next group of 5 numbers, ie. 00044, is the unique Item Reference Number which are allocated to a particular product item.
The last number, ie. 0, is the check digit calculated from the preceding 12 numbers.
The combination of the Company Prefix Number and the Item Reference Number uniquely identifies a product and is used at checkout tills to look up the price from a local database.
Thus the same item in different shops can have different prices.
EAN128 Barcode
EAN128 is a linear barcode which is also known as USS128 and GS128.
It is based on the Code128 method.
EAN128 is differentiated from Code128 by a special lead-in character which is reserved for this purpose.
It uses a system of Application Identifiers (AIs) such that the meaning of the data in the barcode is clearly identified and one or more types of data can be present in an EAN128 barcode.
EAN128 is heavily used in retail distribution at the carton level.
An simple example of an EAN128 barcode is shown below:
Here the barcode shows the 'EAN Number for the Units Contained' (AI 02),
followed by the 'Quantity' of units (AI 37)
The number following the AI 02 is the DUN14 number, which is the EAN13.
article number pre-fixed with a zero to show that the goods are not intended.
for sale across the retail checkout. For more details on the EAN13 article.
number see the section on the EAN13 Retail Barcode.
The number following the AI 37 is the number of units held in the pack.
and in this case is 10.
In EAN128 the actual data contained in the barcode is as displayed but.
without the brackets.
Some AIs are fixed length and others are variable within defined limits.
A special separator character is used when more than one variable AI is used.
in an EAN128 barcode.
A huge number of AIs are available, and among many others, include.
indentifiers for batch/lot number, serial number, production date, and.
minimum and maximum durability dates.
Since these are generally not known ahead of time EAN128 barcodes are.
usually printed on demand.
EAN128 has been adopted for applications in a number of different.
industries. In addition to retail these include pharmaceutical packaging,
blood banking and the US Postal Service.
ITF14 Retail Barcode
ITF14 barcodes are based on the Interleaved 2 of 5 which is one of the earliest numeric linear barcodes.
ITF14 barcodes come with a distinctive surrounding box, or horizontal line across the top of the bars, to prevent mis-reads.
ITF14 is used in retail distribution at carton level and contains the DUN14 number. For more details on the DUN14 number see the sections on the EAN128 Barcode and the EAN13 Retail Barcode.
ITF14 is gradually being replaced by EAN128.
An example of an ITF14 barcode is shown below:

Code39 General Purpose Barcode
Code39 is one of the oldest alphanumeric linear barcodes.
It is a good general purpose barcode and is used for lots of important applications in the automotive and military sectors.
In its standard form Code39 can represent the uppercase alphabetics A to Z, numbers 0 to 9 and seven special characters + - $ . / % and space.
An example of a Code39 barcode representing 'DECISION TECHNOLOGY' is shown below:

New applications which would have previously used Code39 are now more likely to use Code128.
Code128 General Purpose Barcode
Code128 is a modern high density linear alphanumeric barcode which forms the basis for many new applications which include EAN128, HIBC128, HIBC LIC, USPS and Canada Post.
Code128 is a remarkably good general purpose barcode.
It has several advantages over Code39.
Code128 is more compact for alphabetics.
It has a double compression mode for numerics.
Code128 can handle the 128 character ASCII set and provides an efficient means of representing numbers, upper and lowercase alphabetics, punctuation symbols and control codes.
It has a built-in invisible check character which improves the accuracy of decoding the data.
An example of a Code128 barcode containing 'Decision Technology' and printed at the same density as the above Code39 barcode, is shown below.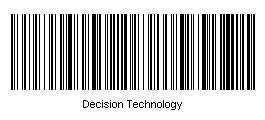 A Code128 barcode printed at the same density and containing 19 numerics is significantly smaller. The total width of the numeric barcode is less than 60% of that of the Code39 equivalent.
Data Matrix 2d Code
Data Matrix is a 2d matrix code which offers large data capacity and resilience to damage.
Data Matrix codes are used extensively in aerospace, automotive, healthcare and military applications.
It is possible to store 50 characters in a Data Matrix code just 3mm square.
Because Data Matrix has built in error correction it can cope with significant damage to the symbol.
In addition to its use for printed symbols Data Matrix lends itself to the poor quality and low contrast symbols found in many Direct Part Mark (DPM) applications.
An example of a fairly large Data Matrix code which contains 'Decision Technology' is shown below.

PRINTING BARCODES
The most cost effective way to print your own barcode labels is to use labelling software on a PC connected to a thermal transfer printer.
You will also need labels and you may need ribbons.
The following sections give some information about the various bits that you will require:
A Barcode Label Printer
Barcode label printers work with rolls of labels and start at about £200.
The entry level models typically print labels up to 4 inches wide at a rate of up to 4 inches per second and are intended for modest label printing volumes.
More expensive models offer higher duty cycles and some are designed for continuous high speed printing.
The printing technology is simple and the printers are very reliable.
Labelling Software
Most printer manufacturers now include entry level PC based labelling software with their printers.
If your needs exceed the capabilities of the free software most printer manufacturers offer chargeable upgrades.
Labelling software is also available from independent software manufacturers.
Labels
The labels usually come die cut to the required size and are supplied on rolls in sizes to suit the printer.
A range of label materials is available and there are two main types.
Direct Thermal which works in the printer without the need for a ribbon and Thermal Transfer which requires a ribbon.
Labels are available in various sizes from the printer manufacturer and independent label suppliers.
Direct Thermal Labels
These labels work without the need for a ribbon.
There are two main types of Direct Thermal Labels. Economy and Top Coated.
Both work in the same way but the more expensive top coated material is more resistent to scuffing and contaminents.
Thermal Transfer Labels
These labels require a ribbon which needs to be matched to the label material.
Plain paper labels work best with wax based ribbons.
Coated paper labels need ribbons which use a mixture of wax and resin.
Filmic labels need wax/resin or pure resin ribbons.
Ribbons
Ribbons are required for use with Thermal Transfer Labels.
The ribbons need to be the correct core size and length for your printer and matched to the label material.
Plain paper labels work best with wax based ribbons.
Coated paper labels need ribbons which use a mixture of wax and resin.
Filmic labels need wax/resin or pure resin ribbons.
Although ribbons are generally black it is possible to obtain ribbons in most colours.
Ribbons are available in a number of widths from the printer manufacturer and independent ribbon suppliers.
READING BARCODES
To read a barcode you need a barcode scanner.
The vast majority of barcode scanners are hand-held devices which simply add barcode reading capabilities to PCs.
This Technology Guide concentrates on using hand-held barcode scanners and deals with the following topics:
Choosing a Barcode Scanner
Given that most of us now use modern PCs with recent versions of Windows choosing a barcode scanner for the more common types of application is completely straightforward.
Good general purpose barcode scanners are now available from about £50.
You need to look for a barcode scanner with USB Keyboard connection and a USB cable.
This approach will immediately allow you to connect the barcode scanner and read the data held in 'normal' barcodes directly into anything that you can type data into from the keyboard, eg. Word documents, Excel spreadsheets etc.
However, if you need to be able to read:
very small barcodes with extremely fine lines
very wide barcodes
2d barcodes
uncommon types of barcodes
or if:
you need a connection type other than USB Keyboard
you need to read the barcode at extended distance
you are working in an industrial environment
you should carefully read the manufacturers leaflets and check the suitability with your supplier.
Connecting the Barcode Scanner
For most of us this is simply a matter of plugging the USB connector into the PC.
If your barcode scanner has a Keyboard Wedge connector you need to unplug the keyboard from the PC and bridge the gap with the Y shaped scanner cable.
If your barcode scanner uses RS232 you will need to plug the cable into a serial port and connect up an external power supply.
Configuring the Barcode Scanner
For most of us there is no need to configure the barcode scanner.
However, if you want to add a Carriage Return or a TAB character to the decoded data you gnerally are able to do this by scanning a barcode in the Start Up Guide.
If you are using RS232 or USB Serial you may need to set up the communications parameters on the barcode scanner and the PC. Details on how to do are usually available in the User Guide.
CHECKING BARCODE QUALITY
To perform formal checks on the quality of a barcode you need a barcode verifier.
For retail purposes and other public systems it is crucial that issued barcodes meet the required quality standards. Failure to do so can sometimes result in large financial penalties.
The following sections may provide some helpful information about checking barcode quality:
Checking Barcodes Visually
When printing barcodes you should always make visual checks. This will save you time and wasted labels.
Things to look for are as follows:
Barcodes should be positioned such that there is clear space around the symbols
The barcodes should be clean and not affected by spots ie. small areas where the print is obliterated by black spots
The barcodes should not be affected by voids ie. small areas where the print is missing
The barcodes should be sharp and dark ie. not fuzzy or greyed out
The barcodes should be whole and without crease lines
The surface on which the barcode is printed should be clean and not affected by dirty marks
The barcode should be printed on an opaque background ie. printed patterns on a carton should not show through the label
Verifying Barcode Quality
The use of barcodes in retail distribution has brought a demand to meet defined levels of barcode quality.
Linear barcode quality is tested using the methods defined in ISO/IEC 15416 which grades barcode quality into bands.
The required minimum grade is normally agreed between the supplier and the client.
Barcode quality is tested with a Verifier which must conform to ISO 15426-1.
Good quality linear barcode verifiers typically start at about £2500. Although this appears to a be a large amount the cost of a single incident of product rejection in the UK is said to average about £10,000.
The internal details of barcode verification are very complicated but fortunately most barcode verifiers can be set to give a simple pass or fail.
It is usual to print a verification report which shows that the barcodes met or exceeded the minimum grade.